Boutique Hotel Collection - The Cliffs Hotel and Spa
Increasing guest satisfaction across multiple properties with high-performance Wi-Fi
Highlights
Boutique hotel management group with 13 properties along California's coast
Three IT staff deployed 200 Meraki APs to simplify management and ensure robust guest Wi-Fi
MR30H APs service an average of 540+ daily guests who use 10TB of data monthly
Overview
When Chris Biggers joined the Boutique Hotel Collection (BHC) as the hotel management group's lead IT manager, he immediately identified some challenges with the technology deployments in key properties.
BHC, located in San Luis Obispo County, California, employs roughly 1,000 people and oversees 13 properties (for a total of 600 rooms) located along the Golden State's scenic central coast. BHC's properties, known for offering guests gorgeous ocean views and fantastic amenities, were fielding complaints about poor wireless connectivity in guest rooms at their main hotels — including their flagship property, the Cliffs Hotel and Spa.
The wireless that was in place before Meraki was consumer-grade and mixed vendor from site to site, with no centralized management or reporting. It was intensive to troubleshoot from an IT man-hours perspective, and just a mess from a guest satisfaction perspective.
Chris Biggers
IT Manager BHC
In addition to the issues arising from a mixed vendor, and consumer-grade wireless deployment, the Cliffs Hotel and Spa — built in the 1970s — also presented physical constraints: thick concrete walls and metal studding, which absorbed much of the RF signal being emitted from the wireless access points (APs) in place. These issues resulted in frequent guest complaints and equipment failure — but there were no easy ways to know the health or connectivity status of the network until someone called IT.
The growing negative reviews concerning guest Wi-Fi were unacceptable to Chris, who began evaluating solutions. He had followed Cisco Meraki's progress since their beginning as an MIT project, so was already aware of the benefits — scalability, simplicity, centralized control — that Meraki's cloud management solution brings. He decided to install Meraki MR access points across BHC's properties.
Chris' small team of three IT staff easily deployed 200 Meraki APs across 13 sites thanks to the ability to preconfigure network and AP settings remotely, before Meraki equipment is ever plugged into power or the internet. This allows a smooth, plug-and-play experience when physically hooking up APs.
The plug-and-play aspect of it saved us hundreds of hours. That time and money really adds up. So the cloud features of the deployment shaved probably at least a month off of our deployment cycle.
Chris Biggers
IT Manager BHC
Meraki's intuitive, web-based dashboard allows Chris visibility into, and control over, his Meraki access points, connected client devices, and all applications consuming bandwidth using one accessible interface.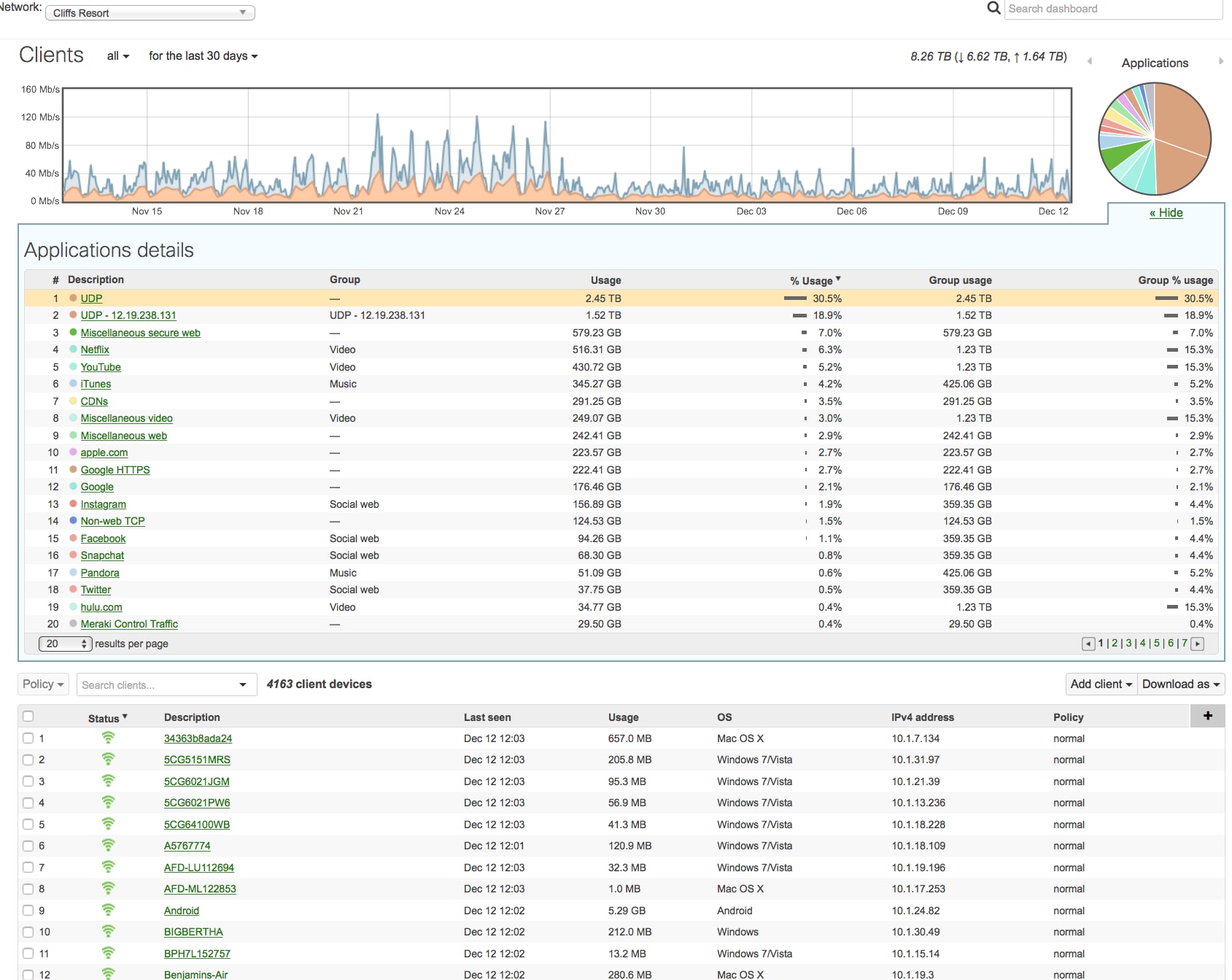 Enter the MR30H wall plate AP
Chris also decided to deploy Meraki MR30H wall plate APs at BHC's four main hotels, including the Cliffs Hotel and Spa. The MR30H — which sports 802.11ac Wave 2 2×2 MU-MIMO wireless and integrated, gigabit switch ports — is a part of the MR wireless product family that Chris has been excited to test.
Having these MR30H units deployed at the Cliffs Hotel and Spa was great because we're able to utilize the existing hardline connection, put one AP in every other suite, dial back the power on the unit significantly so the wireless just stays confined to two suites, and then we didn't lose the hardline connection because it has four ports on the bottom. It was a perfect use case for that.
Chris Biggers
BHC IT Manager
In fact, the MR30H deployment has helped the hotel offer better amenities, since the suites now have dedicated wireless access in addition to four hardline ports that guests can use for laptops or other electronics (or that allow the Cliffs Hotel and Spa to more easily service amenities like IPTVs or VoIP phones).
Of the many features available to Meraki MR access points, two that Chris' IT team use are the RF Spectrum Overview and Radio Settings pages in the Meraki dashboard — which help Chris ensure access points are optimally placed to minimize interference — and the out-of-the-box location analytics help him better understand guest behavior and foot traffic throughout his properties.
#fullstack
The success of the Meraki MR access points led Chris to consider other product portfolios. He now has Meraki MX security appliances installed at every property and serving as the primary firewall. The centralized policy management they enable for full Cisco AMP intrusion detection and prevention (IDS/IPS) helps BHC satisfy many legal requirements.
In addition, BHC now uses Meraki's Enterprise Mobility Management solution, Systems Manager, for all company-owned mobile assets and computers. This enables Chris to do things like apply central policies, push applications, remotely control, geofence, and selectively wipe these devices.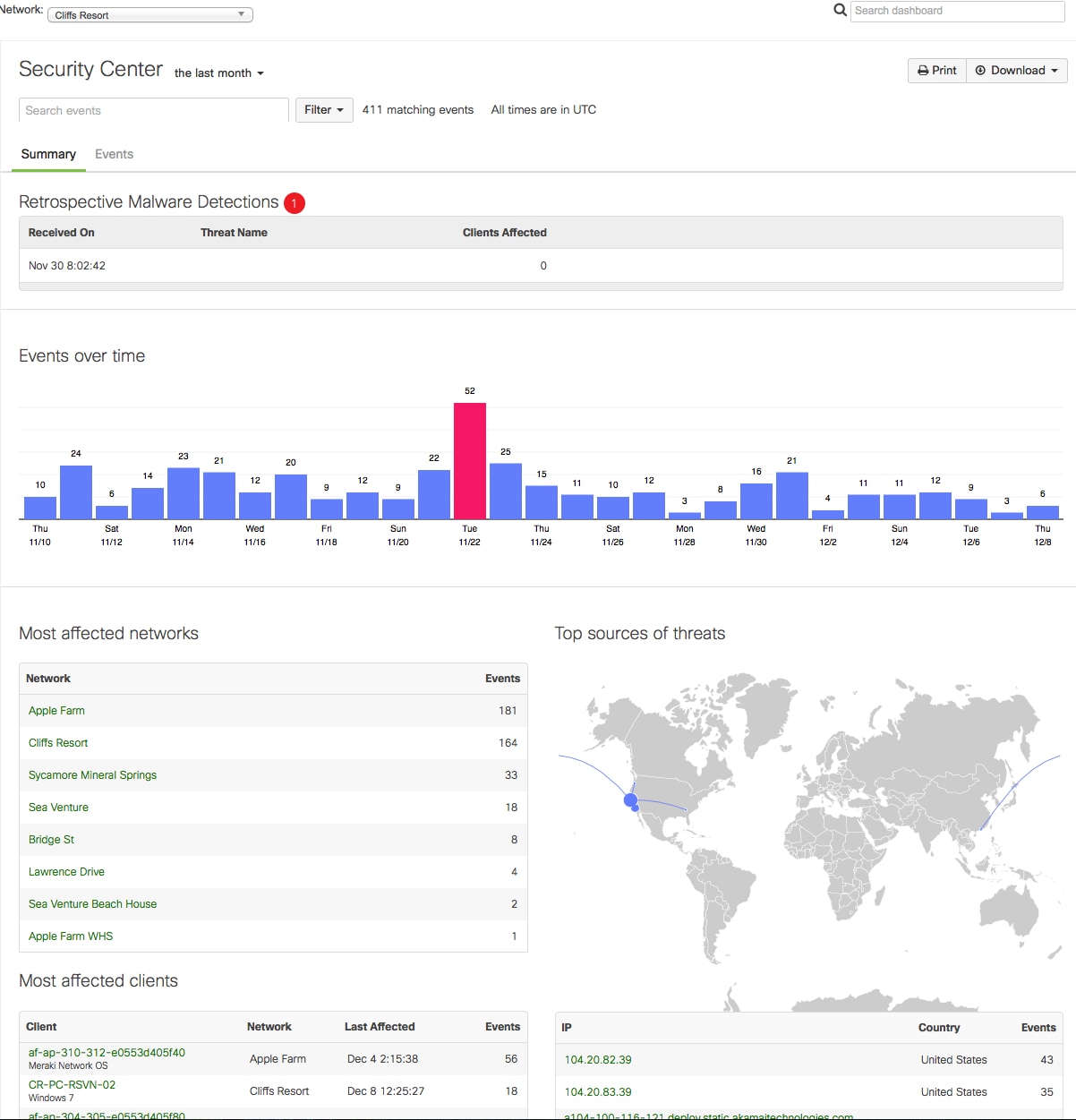 Building a future-proofed network
Finally, Chris' favorite feature about all Meraki products is how easy it is to stay updated on product feature velocity. As he says, "With Meraki, there actually are constant product improvement and stability upgrades, which we truly appreciate because our product refresh cycle is fairly long. Knowing that we won't have to refresh every 18 months or so and that we're going to continue to have support for the products for their entire lifecycle is really what helps us sell it to our leadership team."
Looking forward, Chris says he and his team are further investigating the use of Bluetooth® and beaconing technology that is built into every Meraki AP. The goal is to investigate possibilities for deploying next-generation use cases, such as integrating Bluetooth®, mobile apps, and location analytics to offer context- and location-aware experiences to guests. One example would be to have a discount offer appear on a guest's mobile phone when they walk by hotel spa facilities.
Final thoughts
Deploying Meraki across BHC's properties has saved Chris and his team significant time and troubleshooting. The Cliffs Hotel and Spa now boasts robust, stable guest wireless and is no longer receiving complaints and poor reviews from guests about their technology experience. Chris has more visibility and control over his geographically dispersed networks than he ever had before.
What final thoughts would he like to share for anyone considering a Meraki solution?
Our company has become a huge Meraki fan, not just because we like the technology, but honestly because it's transformed our business and allowed us to have the kind of guest satisfaction that the hospitality industry is all about.
Chris Biggers
IT Manager BHC